×
Select form for submission
Investigation into death of 10 year old in Woking
Police are investigating the death of 10 year old Sara Sharif at an address in Woking.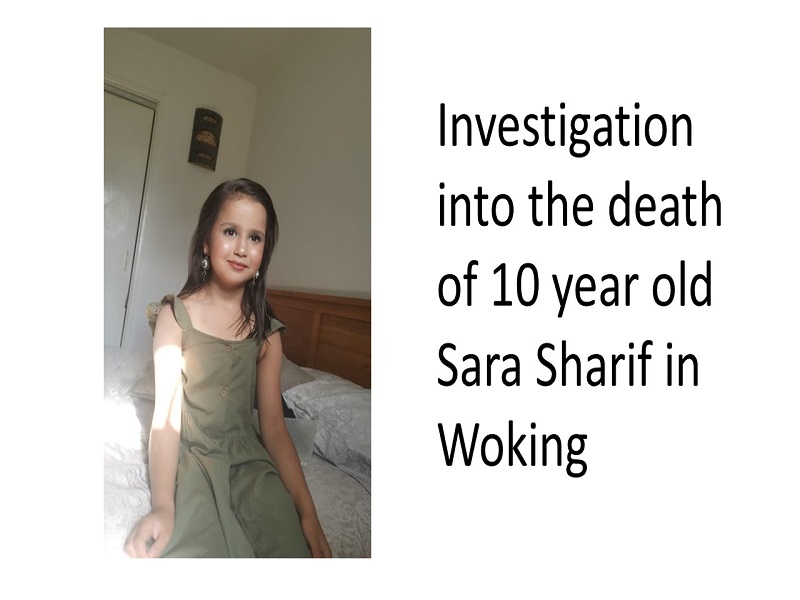 Witness appeal regarding anyone with information relating to Sara Sharif
Police are investigating the death of 10 year old Sara Sharif at an address in Woking.
Police were called to an address in Hammond Road, Woking, at around 2.50am on Thursday (10 August), following a 999 call, which was made by a man identifying himself as Sara's father, Urfan Sharif. This call was made from Pakistan.
On arrival, Sara was found dead inside the property. It is believed that Sara lived at this address.
An investigation, led by Surrey Police and Sussex Police's Major Crime Team, was launched to establish the circumstances of Sara's death and this remains ongoing.
As a result, officers identified three people they would like to speak to as part of the ongoing investigation into Sara's death.
These people have been identified as Sara's father, Urfan Sharif aged 41, his partner Beinash Batool aged 29, and Urfan's brother, Faisal Malik aged 28.
The post-mortem examination did not establish a cause of Sara's death and further tests are being carried out. The post-mortem did, however, reveal that Sara had suffered multiple and extensive injuries which are likely to have been caused over a sustained and extended period of time.
We are appealing for anyone who knew Sara, had any form of contact with her, or has any other information about her, no matter how insignificant it might seem, to come forward as soon as possible.
Contact Information
Please provide your information by clicking below. If however, you would prefer to speak to someone then please call us on 101, quoting Operation Unison. Alternatively, if you do not wish to leave your name, please call the independent charity Crimestoppers on 0800 555 111 or online at www.crimestoppers-uk.org.