Devon and Cornwall Police
14 year-old Kate Bushell was murdered in Exeter on 15th November 1997. Can you help find her killer? Kate was walking a dog in Exwick Lane, Exeter around 5pm. Nearby was a man and a blue vehicle. At 5.30pm Kate's dog was loose and a man was seen running into Exwick. Kate had been murdered. Who were those men? Where did they go? Did someone you know act strangely or out of character? Now is the time to tell us; it could be a vital piece of the jigsaw needed to catch Kate's killer.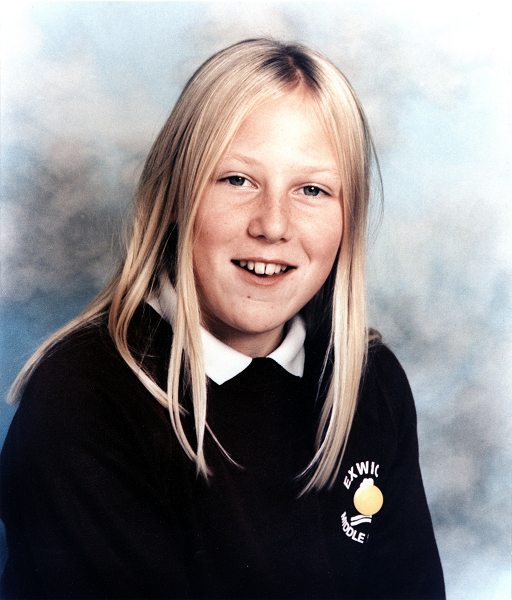 Details of Incident
Exwick Lane is used by local people as a shortcut and to walk dogs in the area. Kate was in the lane before 5pm on Saturday 15th November 1997. There was also a man and a blue hatchback or van.
A short time after 5pm Kate had gone from the lane and whilst the blue vehicle was still there the man had gone. By 5.30pm her dog was running loose and a man was seen to run down a field towards Exwick. A man was also seen running through the Exwick estate. Who were those men? Were they the same person? WAS HE KATE'S KILLER?
Kate's body was found on a footpath crossing a nearby field at 7.30pm. She had been stabbed. Despite extensive publicity the man with the blue vehicle and the man seen running have never been traced or come forward – WHY?
Did someone return to your house or arrive unexpectedly after 5pm that day acting strangely or out of character? Maybe they were muddy or stained and asked you to wash some clothes or give them a cover story or alibi? Did you have to keep quiet. Has your life moved-on now and you are free to tell us your concerns or suspicions? It could help catch Kate's killer
PLEASE CLICK ON THE BELOW LINK TO SUBMIT ANY INFORMATION

Contact Information
Crime Stoppers 0800 555111